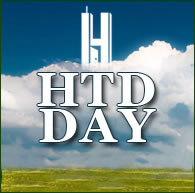 Hold the Door Day is a free event to help individuals and their loved ones coping with loss or adversity (e.g., loss of a loved one, cancer, divorce, natural disasters). Using hands-on activities and professionally designed workshops, our Team engages in skills to help you and your loved one prepare, live with, and grow through grief and challenges.
For over 15 years, Hold the Door has been inspiring people to grow and giving them the skills they need to build confidence as they heal. Through presentations and interactive small sessions, our team of Growth Consultants help you to navigate grief and develop skills to grow through adversity and thrive.
Hold the Door Day is comprised of two programs that run concurrently but are facilitated separately:
The GROWTH Program: This program is designed for people who have personally experienced loss, adversity, or crisis. The Growth Consultants in these sessions are trained professionals in psychology and related fields that share skills that position attendees to use growth, hope, and resilience in their journeys. Please note that this program is not intended for professional psychologists or counselors, it is designed to help individuals develop skills for their own individual growth.
The HELPER Program: The Helper Program is designed for individuals who are interested in improving how they support other people in everyday life. It will provide you strategies for helping others cope or feel comfort during as they experience loss or adversity, whether it be in a personal relationship (i.e., friendship, family member) or a professional atmosphere (i.e., healthcare or educational settings). Topics such as self-care and maintaining boundaries while you support or care give for others will also be covered.
Attendees will engage in the following activities:
Developing the necessary life-skills to grow through loss and adversity
Learning strategies to increase your ability to bounce-back from hardships
Connecting with others who have experienced various kinds of loss
Boosting your emotional intelligence (self-awareness, regulating emotions, etc.)
Receiving resources that will prepare you for future loss and help you grow from existing loss.
When you register for Hold The Door Day, we encourage you to bring someone who may benefit from either of our programs, the Helper Program or the original Growth Program.
**Pre-Registration is required. 
15th Annual
Hold The Door Day
October 20, 2018
New Brunswick Theological Seminary
New Brunswick, NJ 
Welcoming, safe, nurturing and loving. How could it be otherwise? I spent the day with people who felt exactly as I did, devastated and broken, searching for meaning and direction. An entire day of sharing stories, tears, fears, hopes – it was a cathartic experience, and I left feeling hopeful. That hope has been carried on throughout the years, reinforced and strong.
I love that the sole purpose of the day is to empower and equip people to heal. We all go through things in life and we can always use a little help in overcoming obstacles.
I recommend this program because it gives people an opportunity to connect to others that are also grieving. It is hard sometimes to find someone who "truly gets you." Here people understand, listen without judgement and offer mutual support.
HTD has encouraged me to feel that it's ok to be hopeful about the future, That my life does not end when I lose a loved one – that I can grow and love and learn and experience life in a whole new way and NOT feel guilty about it.
Honestly, Hold the Door has changed me for the positive. It has made me stronger and the greatest lesson that permeates myself and my life is that I am important. I have learned to respect and love myself, regardless of outward events or situations. The people who run this organization believe in everyone and they are so smart and genuine that they actually build confidence in others.
It made me realize we are not alone in suffering loss, and that if we reach out to others in our grief and mourning, we can honor and remember our lost loved ones, both individually and as a group.
It helped give me the courage to know that I am a good person and it is all right to be me. I was in the initial stages of the separation between my husband and me and it gave me strength. We have separated since then and it gave me the go ahead also to know that I am a good mother and it gave me bonding time with my son and we enjoyed the day together. It was an re-enforcement that this too shall pass and I know that everything is going to be alright and it has been a long and hard journey since then but it gave me the initial strength to do what I needed to do.
The people at Hold the Door are extraordinarily adept at helping others walk through their chaos, and helping them learn the navigation ropes for survival, in the process.
The connection we all had because of our individual loss.  The compassion and caring of everyone.  I feel it always helps to be in touch with someone who not only talks the talk but who is walking the walk.