Just like every builder needs tools, people facing adversity need skills to learn how to honor their pain and redirect negativity towards growth and future dreams. The resources provided by Hold the Door for Others are created and maintained by a team of professionals and draw from years of research and experience. We encourage you to explore them all and share with others.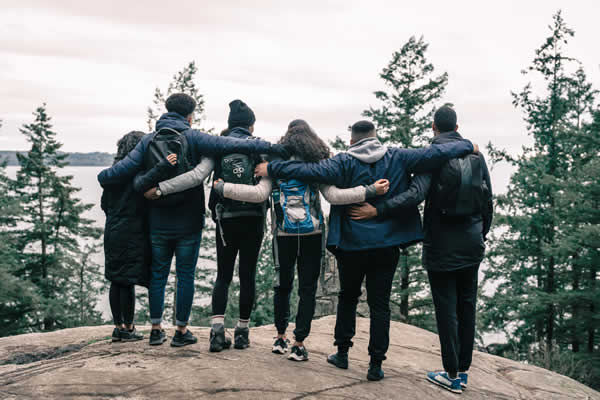 The coronavirus has become an anxiety crisis. In the first image we see how anxiety will spike, but with intentional growth skills it will decrease. In the second image you will see simple tips on how to get started: Learn, Laugh, Love.
Click on either images below to download our "Keys to Intentional Strength and Growth."
Watch Our Growth Consultants Share their tips on Flattening the Anxiety Curve During Covid-19.
OTHERS(S) Model
The resources in the OTHERS(S) model are Optimism/Hope, True-meaning, Humor, Emotional Intelligence, Resilience, Spirituality, Self-confidence, and OTHERS(S). Each of these resources is likely to act as a buffer to trauma and lead to growth following loss. Additional in-depth information on each resource, key message, and skills can be found in our workbook: Finding Your Way Through Sudden Loss and Adversity and Our Personal Growth Guide.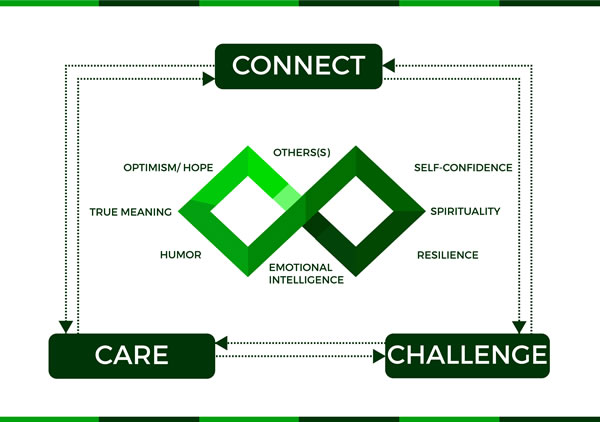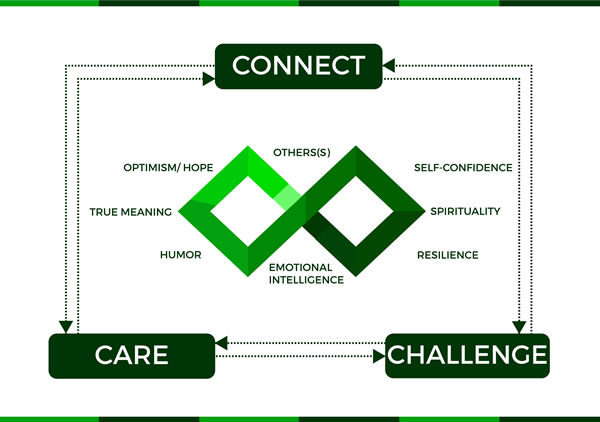 Psychology Today – A great resource for finding a therapist that fits your needs
Help Guide – Offers more coping skills to deal with Coronavirus Anxiety
Greater Good – Provides information on finding purpose in your life
PsyCom – Strategies on finding affordable therapy
Mental Health America – A comprehensive "finding help" tool that includes self-assessment tools, links to finding someone in your community to talk to, and even tips on how to make the most of your relationship with a therapist or social worker, as well as a crisis number you can call in case of emergency (1-800-273-TALK)
MentalHealth.gov – A catch-all location for mental health programs, resources, and even studies and evidence-based articles that can help you find someone to talk to. There are detailed pieces on what to look for in yourself or someone you know that may be an indicator that person is dealing with an undiagnosed issue, and even resources for people who know a loved one who's in treatment or could use help, and how to handle their own feelings about that. Whether you need immediate help, you're a veteran struggling with PTSD or another mental health challenge, or you're just looking for information on how to manage the complex web of health insurance and mental health offerings, there are resources to help you. They even have an easily bookmarkable page with hotlines and live chat worth keeping on-hand if you or someone else is ever in a dark spot.
Blah Therapy – Offers a combination of free and premium services that will give you people to chat with if you need someone to talk to. On the free side, you can speak anonymously to a listener at any time without signing up or registering for the site. It's a bit like venting to a stranger who's willing to listen—don't expect comprehensive help or anything, but sometimes it's nice to just be heard by someone who has an open ear.
On the premium side though, Blah Therapy can connect you with actual therapists and social workers who can talk to you via live chat, after being matched with someone who can help with the things you're feeling or the issues you're facing. It's a chat relationship, of course, but they're absolutely willing to help. You can try the premium service out for a week before you have to sign up for a subscription.
7 Cups – Has resources on its site to help you practice good self-care, group messaging and community support options. The site also has its signature free chat options to talk to trained listeners—essentially volunteers happy to share an open ear and talk to you about whatever's going on—and even find professional therapists willing to help, for a fee, of course. The service will even help you find a therapist in your area to connect with face-to-face. Even in the absence of all of that though, if you need someone to talk to right now, 7 Cups' trained listeners are there to help. If you're on the go, they have a mobile app too.
IAMAlive – An online crisis network, and all of its volunteers are professionally supervised and trained in crisis prevention. Unlike many services where the listeners are volunteers or people just willing to lend an open ear, IAMAlive volunteers are trained to help you in almost any situation and can help you find additional in-person resources to help as well. Volunteers come from (and operate) around the globe, and their online chat is just one click away. If you're curious about becoming a volunteer, or what their volunteers go through, check out their FAQ.
Crisis Text Line – A 24/7 service that's text only. Right now though, their website is packed with support numbers and additional information. Plus, texting lets you reach out when you're away from home or a computer, feeling unsafe about accepting or placing a phone call, or discreetly if you need to. Simply text 741-741 with the message "START" to get started. You'll have to provide a couple of details, but after that you're connected with someone who can help.
ReachOut – A free social network, available for iOS and for Android, ideal for people on the go, or who would rather get help and connect with others on their phones instead of making phone calls or using desktop live chat services. It's also a support network full of people who are struggling with similar issues that you're having and offer both communal options to talk to others about your problems or thoughts, or more urgent options to talk to someone when you really need help. Best of all, the service offers support choices for people who struggle with particular health and wellness concerns, like chronic pain and illness, cancer, and other medical issues that of course, in turn, impact your mental health. It's worth installing.
Check with Your Insurance – Before you pay out-of-pocket for therapy, always check with your insurance provider for local therapists that may take your insurance. You may have a very small co-pay and not know it, so it never hurts to confirm with your provider. If you have out of network benefits, many therapists can also provide you with paperwork that you can submit to your provider for reimbursement. Just make sure that the reimbursement rate is worth paying out of pocket.
Ask About Pro-Bono Services – You have nothing to lose by emailing a few expensive therapists and asking them if they offer a sliding scale fee based on income or do pro-bono work. The ethical codes of most mental health professionals strongly suggest that they take on at least one or two pro bono clients to serve the public. And even if they say no, they're likely to have good referral information about community clinics and other low-cost options in your community.
Call Your Local University – If you live in a city or a college town, universities are often the best place to get low-cost (or even free) therapy. If you're a student, you're usually entitled to at least a few sessions with a campus psychologist or counselor. But almost any university will have a graduate training clinic where students are learning to be therapists or psychologists. These clinics are usually open to the public, and they offer sliding scales fees that can be as low as $1.
 Check with Your Employee Assistance Program (EAP) – Do you know if your work has an employee assistance program? If so, you may qualify for a limited number of free counseling sessions. Many people are hesitant to ask about counseling at work, but your therapist will keep your information confidential. Employers want their employees to access services and practice good self-care, so never hesitate to talk with your human resources representative about EAP services. These services might also include additional wellness classes or other resources in addition to therapy. If you're concerned that your counseling appointments might be recorded in your personnel file, ask your HR representative about confidentiality policies regarding EAP programs.
Use Your Community Resources – Even if you live in a small community, you might be surprised what mental health resources are available to you. Community centers, hospitals, schools, and places of worship sometimes offer free or low-cost counseling. Many community organizations also host peer-support groups (groups run by people facing the same issues) and recovery groups which can provide additional care. If you're unsure where to get started, you can call 211 (a government-established hotline that connects people to community or government agencies) or a local clinic. Chances are someone will be able to connect you to the right resources. Also, if you've been diagnosed with a mental illness, you may qualify for psychiatric and behavioral health services from your state. Contact your state's department of health to see if you qualify for these services.
Resources for Children and Teens 

Dealing With Loss
Hold the Door for Others focuses specifically on adults and loss; however, people often ask us for resources to help talk about loss with children. Below are links to organizations specializing in children and loss that might be helpful.